Sign contract remotely, with full legal validity and maximum security

Smart Signing
Enterprises, organizations manage the creation, adjustment, approval and storage of contracts/records on a single platform
Easy online partner verification with eKYC

Anytime, anywhere, any signature
Multi-modal signing: from email, message, on the system
Sign on desktop, tablet, mobile
Sign with any type of digital signatures: token, HSM, OTP...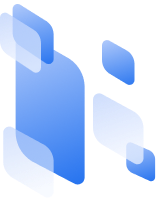 +
Enterprises trust and use
+
econtracts and documents signed

0 vnd
Time of handover and submission of contract

0s
Update contract signing progress immediately

0s
Contract printing, transfer and storage fees

Digitalizing the contract signing process
1
Contract creator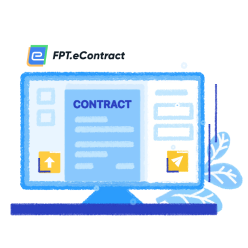 Upload contract file
Define the flow and order of reviewers / signers
Identify signers with signature location
Send econtract to signers (and reviewer if any)
2
Contract reviewer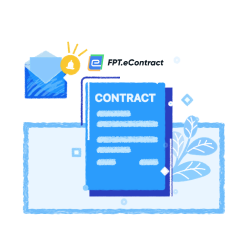 Receive automatic notification email
Review the content of the contract
3
Signers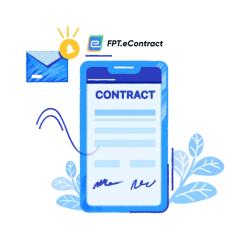 Receive automatic notification email
Add digital signature (e-signature, image signature, etc.) without logging into the system
4
Các bên ký hợp đồng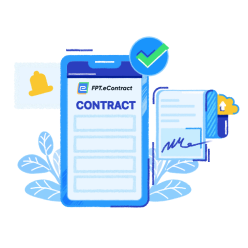 Receive notification email of contract signing completion with signed contract
The contract is stored, encrypted and ready to be downloaded by signers and relevant parties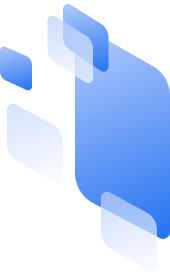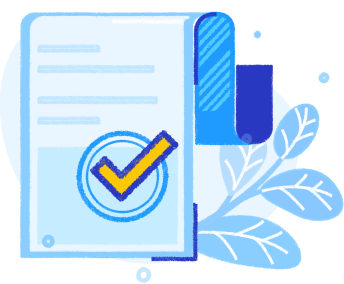 Legal of electronic contracts
UNCITRAL E-Commerce Model Law of the United Nations Commission on E-Commerce Law.​

Law on Electronic Transactions No. 51/2005/QH11 of the National Assembly dated November 29, 2005 taking effect from March 1, 2006.​

Decree No. 130/2018/ND-CP of the Government detailing the implementation of the Law on Electronic Transactions on digital signatures and digital signature authentication services.

Circular 22/2020/TT-BTTTT of the Ministry of Information and Communications on technical requirements for digital signing software

Decree No. 166/2016/ND-CP regulating electronic transactions in social insurance, health insurance and unemployment insurance​

Labor Law No. 45/2019 / QH14 recognizes the awareness of electronic labor contracts.
Optimizing contract information security
Fully meet the legality of electronic authentication

Security solution against attacks from outside 24/7

Contracts and electronic documents are stored at the only data center in Vietnam that meets ISO 27001: 2013 and 22301: 2012 information security.

The software is built according to the international standard process of quality management, information security ISO 9001: 2008, ISO 2700 and CMMI3

The system applies many different security solutions, layers and layers: Firewall, Web-App Firewall, Channel Encryption, Data Encryption, Multi-tenancy, Pentest"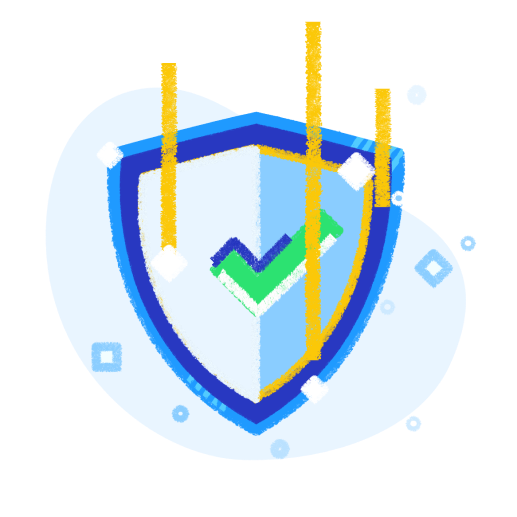 Electronic document signing FPT.eContract Quotation
Applicable to all types of contracts and documents
Open an account at home

Apply for a loan remotely

Notice of service agreement change
Sign labor contracts for factories and organizations with a large number of employees

Sign HR service contracts for seasonal positions
Sign and pay rental contracts

Deposit agreement/Purchase contract

Make real estate payments
Open an insurance contract

Pay fee, change limit, renew
Register for medical treatment

Pay the fee, sign the service invoice

Signing with partners and service providers for hospitals
Commercial contract

Labor contract

Brokerage contract

Purchasing Order
Contract between the School and teachers

Contract between the School and students' parents

Contract between the School and service providing partners: foods, books, notebooks, extracuricular activities, etc.

Contract between the School and agencies at all levels
Framework contract with suppliers, service providers of restaurants, food and beverage, amusement parks - traditional partners, car services, hotels, restaurants.

Cooperation contract with tourism partners for the domestic and foreign trade in the form of inbound and outbound

Individual tour contract signed for each incident

Internal document files diversified through multi-party signing process, many forms including review, autograph, authenticated personal photo signature, digital signature
Using FPT eContract only requires one training session and solution implementation in 1 day. Up to now, e-signing activities have been widely used at Ford Vietnam with the number of tens of thousands of records per year. The time to sign a contract is only 5 minutes on average, saving tens of thousands of USD per year for the company.
Ford Vietnam
The processes from printing, signing, and delivering hard copies of documents at Cofico have all been digitized, helping to reduce the time to process documents and contracts from 3-4 days to 3-4 hours, and reduce costs from 300,000 - 350,000 VND / application reduced to 100,000 VND / application. FPT.eContract also helps businesses eliminate the risk of document loss and reduce the risk of disease transmission.
Công ty CP Xây dựng số 1 - COFICO
Traditionally, the company took 3 days to submit a contract, then passed it on to the customer to sign. And when social distancing, this period is lengthened. To solve this difficulty, BNQ chose the solution of signing an electronic contract FPT.eContract. The initialization and signing time is shortened to less than 10 minutes, and customers also receive the contract via email to complete the signing.
Công ty BNQ Global
The application of FPT.eContract solution not only ensures the quality of work when working online at home, but also helps businesses save costs of printing, delivery, storage as well as eliminating the risk of contract loss. , thereby not interrupting the signing for any objective reason.
Công ty Win Win Audit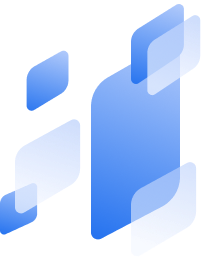 Deployment with No Touch Process, Paperless contract
1 minute

Sign an electronic contract

24/7

Multi-channel support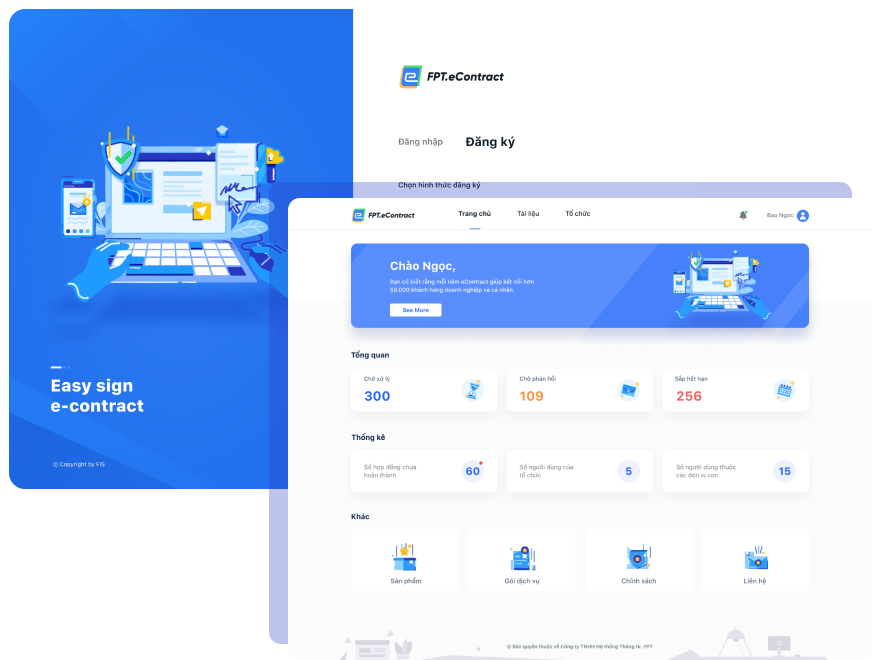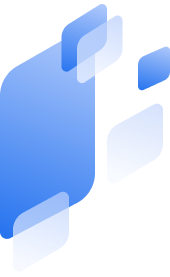 Leave your information for free consultation today