Transparent authentication, high security – FPT.eContract on strong growth momentum
Electronic contracts in the eyes of Vietnamese businesses
With the advantages of unlimited space and time of signing, E-contracts in Vietnam have been gradually applied by organizations and businesses. businesses and individuals across the country. Only on the FPT.eContract platform, from 2019 to now, there have been over 1.2 million transactions signed on the platform, connecting hundreds of thousands of users and businesses.
Survey from more than 400 guests attending the webinar organized by FPT Information System and Dell Technologies showed that 71% have known about electronic signing form, 55% are ready to apply this form of signing in the future. In addition, the top 3 issues that organizations and businesses still wonder about econtracts are the legality, security and the ready of partners collaboration to sign.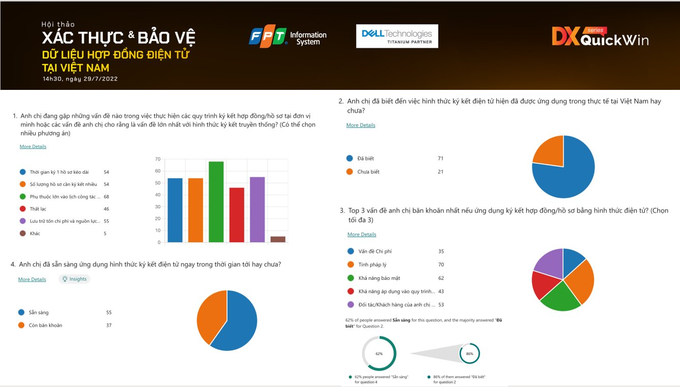 Electronic contract enhances authentication, data security
E-contracts already have sufficient legal grounds equivalent to paper contracts under the Law on Electronic Transactions No. 51/2005/QH11, Decree No. 52/2013/ND-CP on e-commerce, Decree No. 130 2018 on digital signatures and digital signature authentication services… And now, the launch of the electronic contract authentication system by the Ministry of Industry and Trade creates more assurance of the State agency for signed documents. ; helping organizations, businesses and individuals have more bases and facilities to widely deploy the form of electronic and remote signing. The signing of the contract is not only guaranteed for integrity and non-repudiation of contract content with digital signatures, but also identified by the timestamp and digital signature of the Ministry of Industry and Trade so that relevant parties can look up the authenticity. the following document signed at any time.
At the seminar, Mr. Le Duc Anh, Director of the Center for Informatics and Digital Technology, Department of E-commerce and Digital Economy, Ministry of Industry and Trade said that the validity of an electronic contract is based on two conditions: The resolution is "Ability to verify the identity of the signer" and "Application of digital signatures and anti-tampering of contract content". These are two indispensable conditions for an e-contract certifying organization to confirm and authenticate an e-contract. Compared with unauthenticated electronic contracts, those certified by CECA and the Ministry of Industry and Trade bring many benefits to businesses.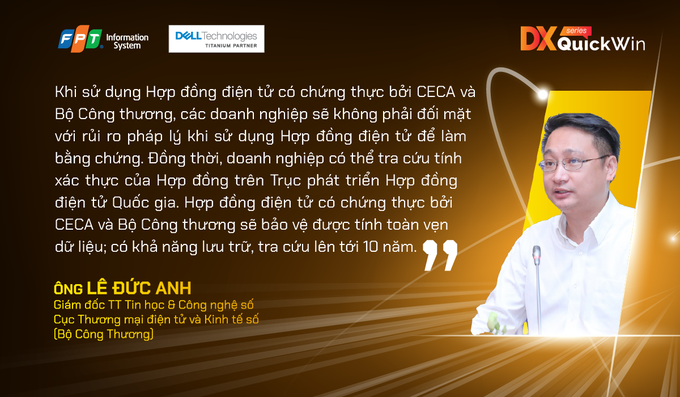 Mr. Nguyen Hoang Tung – Director of VVN AI & Trusting solution shared at the seminar the importance of centralized verification of electronic contracts. Aiming for measures to solve the difficulties when signing electronic contracts in cross-signing; centralized data processing, exchange and lookup issues; dispute resolution and data security, the Ministry of Industry and Trade has researched and developed CECA, thereby supporting businesses and individuals to apply electronic contracts according to legal and transparent standards.
As a CeCA authentication service provider, FPT.eContract signing platform solution provider, Mr. Nguyen Ta Anh – Deputy Director of the Electronic Service Center shared that all electronic contracts signed on FPT.eContract are ready to be authenticated with the electronic seal of the Ministry of Industry and Trade through CECA portal. FPT IS team is always ready to support and accompany businesses to support and help businesses in the authentication process.
Sharing at the seminar, Mr. Nguyen Duc Thuan – Director of Bach Khoa Digital Solution Company said: "Electronic contracts are an inevitable trend of society, bringing many benefits in terms of time, space and cost. Fees are not only for businesses but also convenient for suppliers and distributors in the transaction and signing process. After applying FPT.eContract solution, we realize that signing contracts becomes very fast and convenient."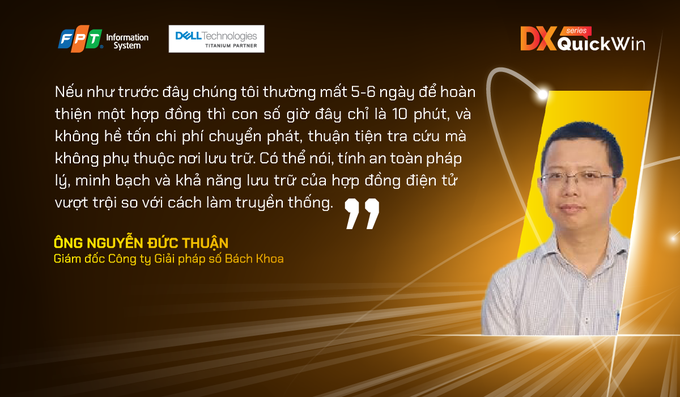 In addition, concerns related to data attacks and information security are what many businesses using e-contracts are always concerned about. Mr. Nguyen Si Nguyen – Solution consultant, Dell Technologies said that the damage of cyber attacks in 2021 is 6000 billion dollars. And every 11 seconds, there is 1 cyber attack happening with different the engines, methods and goals. Businesses not only need to focus on preventing the risk of intrusion, but also need to pay attention to the recovery process after the incident.
"The recovery process of an enterprise after an attack is extremely important, so Dell Technologies has researched and introduced many businesses to Cyber Recovery solution. This is a data protection solution that helps isolate data. business-critical data from attacks. Critical data is immutably stored in a platform that enables recovery with data integrity with high security." Mr. Nguyen Si Nguyen shared.
As the legal corridor for econtract is solid, the solution is ready, the market is expanding, the speakers attending the Webinar believe that the application of e-signature will grow even more strongly in Vietnam in the future. FPT IS hopes that the FPT.eContract e-contract solution will reach and help many customers in domestic and international markets on their digital transformation journey. For details on the solution, the units can be accessed here.
Source : Dantri
Link: https://dantri.com.vn/suc-manh-so/xac-thuc-minh-bach-do-bao-mat-cao-fptecontract-tren-da-tang-truong-manh-me-20220805203417193.htm